Worth knowing about 3 year TP WARRANTY
3 year TP WARRANTY on all components of the machine - except wearing parts
3 year TP WARRANTY covers all components on your TP Wood chipper, regardless of whether the parts are manufactured at our own factory or come from a subcontractor, such as engine, hydraulic components, gears etc. We thus take responsibility for the machine's overall quality and reliability.
The warranty covers the supply of new components and spare parts in the event of defects in construction, materials or workmanship, but does not cover costs for labor, accommodation and transport in connection with the repair.
You can always freely choose a service workshop for ongoing service checks of the wood chipper, as long as only original TP spare and wear parts are used
Please note that wear parts are NOT guaranteed. Wearing parts include filters, belts, couplings, oils and fluids, glow plugs, bearings, knives, countersinks, scrapers, replaceable casings, PTO shafts, ejector tubes, ejector blades, batteries and parts subject to normal wear and tear.
Surface treatment is also not covered In the event of a warranty claim, please contact the dealer where you purchased the machine.
The warranty also requires a bit of you
3 year TP WARRANTY assumes that you comply with the following during the warranty period:
Use only original TP spare and wear parts
Observe all service checks in accordance with the manual. Documentation for your service checks must be included in the event of a warranty claim
For all inquiries regarding warranty, you must be able to present the original invoice containing the date of sale, machine number, machine type, machine model, customer name and address as well as dealer name and address. 3-year TP WARRANTY lapses in the event of faults or defects due to incorrect installation of spare or wearing parts, unauthorized modifications to the machine or improper use.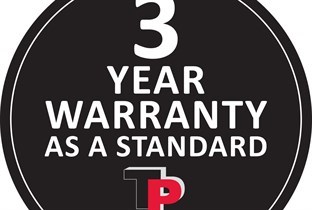 As one of the only manufacturers of wood chippers worldwide Linddana offers a 3-year warranty on the total range of TP Wood Chippers for landscaping (TP 100 - TP 280).