TP PILOT - STRESS CONTROL SYSTEM
The means to a smooth operation
The TP PILOT is developed to optimise your work with TP Wood Chippers. TP PILOT is a stress control system aimed to prevent an overload of the engine - whether it is the chipper's own engine or the engine of the tractor. 
On the stress control system you can read out the rotation speed of the feed rollers. If the rotation of the feed rollers does not match the rotation speed of the rotor disc, one of two scenarios occur:
At too low a speed, there is not a maximum utilisation of the machine's capacity
At too high a speed, a breaking effect will occur as the wood is pushed against the rotor disc. Besides causing unnecessary wearing of the machine, this can also cause accumulation of material in the funnel opening.

Other features on the TP PILOT  
Monitoring of the rotor disc's rotation speed (rotations per minute)
Control of start and stop of feed rollers based on the rotation speed of the rotor disc
Option to enter upper and lower values for optimasation of wood chipper functionality based on the performance of the tractor
Monitoring of feed roller rotation speed - with alarm if exceeding top speed
Hour counter - job time in hours/minutes - can be reset
Hour counter - operating time in hours/minutes
Choice of machine type - for quick and easy start-up in the event of subsequent installation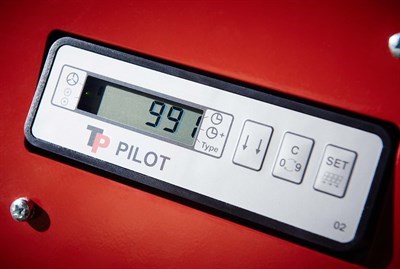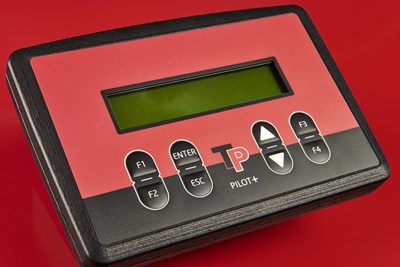 Did you know?

TP PILOT is standard on all hydraulically driven PTO woodchippers
TP PILOT K is the controlunit for the crane woodchippers  (PTO K)
TP PILOT+ is the controlunit for the  mobile woodchippers    TP 165/175/215/280 MOBILE